Going away to a resort with a romantic partner can be a tremendous idea. Below we are exploring a number of all-inclusive, adults-only travel destinations for couples, especially honeymooners or those in a fairly new relationship, who would like to have a romantic getaway.
Original Group
Click the Image to visit the Temptation Resort & Spa Cancun site!
With more than 35 years of experience, this Mexican firm is quite active in Vacation Clubs, the Hotel Sector, Real Estate and the Cruise Industry. They specialize in providing paradise seekers with unique adults-only experiences, in top destinations across the globe. Their products provide the ideal atmosphere for singles and couples seeking to add a new element to their holiday. Each is categorized by its own individuality but common standards are set for each, while concentrating on original, adult experiences.
Below are two of the couples resorts associated with the Original Group. It is important to note that although these destinations are popular with couples seeking erotic experiences, other couples have enjoyed their stay at these resorts and some even look forward to return visits.
Designed for couples 21 years and older, the Desire experience offers a unique, clothing-optional atmosphere to their guests, providing an environment of freedom outside of traditional environments. This experience has been separated into two sectors, providing guests with an array of vacation options.
Their all-inclusive resorts Desire Riviera Maya and Desire Pearl and their Desire Cruises, which is dubbed as sensual sanctuaries at sea, provide couples with spectacular spaces and provocative luxury. This creates the ideal combination of fantasy and relaxation with breath-taking views of amazing destinations.
These exclusive experiences include couples' workshops, provocative theme nights, indoor/outdoor playrooms, brand name beverage service, gourmet dining, first-class accommodations and the latest in adult entertainment.
Dubbed the "Playgrounds for Grown-Ups," the Temptation experience provides both at sea and on land entertainment with Temptation Cruises and Temptation Cancun Resort. They cater to adults 21 years and older by providing passion-infused and vibrant, topless-optional environments. This is ideal for the confident, the chic and the free-spirited vacationer.
The adventurous and sensual activities of the brand, the international DJs and the trendy performances and shows provide guests with limitless options for first-class entertainment.
Their first class accommodations and fine dining ensure guests the most remarkable vacation. Temptation is a top pick among individuals seeking an extraordinary, adults-only getaway.
In addition to the actual hotels, when you are at the Original Resorts website, you will see that they offer a vacation club and Marina!
Premier Experience
The objectives of Premier – which is their vacation club – include increasing brand loyalty and providing repeat clients with a first-class vacation experience. They are focused on rewarding their members with personalized service, exclusive privileges and room upgrades in oceanfront facilities on the sensational beaches of the Mayan Riviera and Cancun. Their members can take advantage of one or more yearly vacations, at special rates, in the best Cancun resorts and all over the world.
Marina Hacienda Del Mar
Marina provides access to the ocean 24 hours a day via its massive American-style dock. For travelers arriving at Original Resorts via yacht or other vessel, it doesn't get much better than this! The vast dock makes it capable of receiving pretty much any boat, yacht, motorboat and other vessels. Their highly-trained staff has exceeded the needs and expectations of travellers from across the world. All berths have gasoline and diesel and different facilities for organizing just about any kind of event. In addition, they are an official arrival port for foreign vessels. Guests of Marina Hacienda Del Mar can take advantage of their first-class services and modern facilities.
Princess Hotel & Resorts
Located in idyllic Playa del Carmen, the Platinum Yucatan Princess All Suites & Spa Hotel is a five-star adults-only resort that falls under the Princess Hotel & Resorts brand. They are completely focused on providing guests with the very best facilities so they can enjoy a remarkable array of activities against the blue and green setting of the Riviera Maya.
If you are an athletic couple, you will enjoy their complete program of sports activities like tennis and archery or paddle surf, water polo or other refreshing water sports. If you prefer, you can have a more relaxing stay in this luxurious setting while enjoying the surrounding natural beauty of the property.
Don't Forget the Punta Cana Princess!
Princess Hotels & Resorts has an adults-only resort in the Dominican Republic at Punta Cana as well. It's called the Punta Cana Princess. Elsewhere on this site, I mentioned that my good friends had stayed at Punta Cana in a family-oriented resort, but had they known at the time that something like the amazing Punta Cana Princess existed, they would have DEFINITELY chosen this resort! (Again, it isn't that they don't like kids – they have 2! They just would have preferred the more sophisticated, romantic, and quiet adults only atmosphere.)
As we were daydreaming about our own vacation (which ALWAYS happens when we're searching for great destination spots), we noticed something pretty cool at their site! They have some VERY good deals going on! Actually, it almost seems like there is something special nearly every time we visit the site. If you want to see what we mean, we can show you how to get to them.
First, to get to the overall Princess Hotels Deals Page –>CLICK HERE
NEXT, simply scroll down the page, and you'll see a BUNCH of big discounts. Every single time we check, there is a sale going on. If you want to save almost instantly, and you've never stayed at a Princess Hotel or Resort before, we noticed that you can sign up for their MyPrincess Caribbean Programme, which is a benefit program offering an additional 15% off your booking, plus additional bonuses and services. And BOTH the Platinum Yucatan Princess Resort AND the Punta Cana Princess are INCLUDED in that program!
Be Live Hotels
The Be Live Hotels group was one I had never heard of until recently, and while they have a great selection of resorts for families, they also have a select number of adults-only, all inclusive resorts as well. These couples resorts are based in Spain as well as one in Marrakech, Morocco, and several in the Caribbean (including one in Cuba).
Oh! This hotel chain has a very easy option to view their site in Spanish (most sites do have this option these days, but this one is really easy to find – and they also offer the site in German, Portuguese, French, and Russian).
One unusual feature that we noticed in the Adults-Only Be Live Collection Punta Cana Resort (located at Carretera Cabeza de Toro, 23000, Punta Cana, La Altagracia, Dominican Republic) was that it also caters to business groups. I know that on this site, we're talking about helping our readers find a nice, romantic resort, but we thought this was a pretty interesting feature. Oh, the Punta Cana resort didn't appear to be all-inclusive, while a few of the others DO offer all-inclusive packages.
Here are a few Be Live, adults-only options that do have all-inclusive stays:
Be Live Adults Only Los Cactus (located at Carretera Las Américas, Km 3, 42220, Varadero, Cuba)
Be Live Adults Only Tenerife (located at Avenida Blas Pérez González, 11, 38400, Puerto de la Cruz, Tenerife, Spain) – This one also caters to business groups.
Be Live Collection Marrakech Adults Only (Location: Lot B6, Zone de Zahrat Annakhil, Marrakech, Morocco) – This one also caters to business groups.

Barceló Hotel Group
The four-brand portfolio of the Barceló Hotel Group comprises over 230 hotels in more than 20 countries. In Spain, it is among the leading holiday companies and among the most significant in the world.
The Barceló family has owned the group's properties for three generations. The Barceló Hotel Group has a new design that is made up of 4 brands: Barceló Hotels & Resorts, Royal Hideaway Luxury Hotels & Resorts, Allegro Hotels and Occidental Hotels & Resorts. This is a sensational project aimed at placing the group among the main hotel management companies across the globe. The group makes every effort to provide the highest quality and most specific services to every guest.
And while many of the beautiful Barceló hotels are family oriented, they also boast the extremely romantic Barceló Bávaro Beach – an Adults Only destination on beautiful Playa Bávaro at Punta Cana in the Dominican Republic.
Sandals Resorts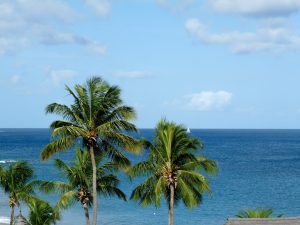 Sandals Resorts invite guests to experience the apex of luxury Caribbean all-inclusive indulgence. Their luxury resorts are set along the most breath-taking tropical settings and gorgeous beaches in Jamaica, Grenada, Antigua, The Bahamas, Barbados and Saint Lucia. These destinations feature exclusive bars serving first-class wines and spirits, unlimited gourmet dining and every water and land sport you can imagine. There is also complimentary PADI-certified scuba diving at the majority of their resorts and green fees at their golf resorts.
Atlantis, Paradise Island Bahamas
Atlantis is not an adults-only resort; however, it is a favorite among honeymooners all across the globe. It features the largest open-air marine habitat in the world – Aquaventure, which is a 141-acre water park. It includes the Atlantis Casino, five miles of beautiful beaches, 11 amazing pools; the quintessential Mayan Temple's Leap of Faith slide, an 18-hole, golf course and Dolphin Cay.
Dolphin Cay was established in 2007 as a means of providing a haven of safety for 17 dolphins that were left stranded after their home was devastated by Hurricane Katrina. It is among the largest man-made, open-air marine mammal habitats in the world. This 14-acre environment has a high-tech education center, an animal pharmacy, a sea lion center, sandy beaches and a rescue-rehabilitation hospital for animals. It also includes an 11-acre lagoon, coves and 7 swimming pools.